Rebirth solo Research. Ludovica Pinna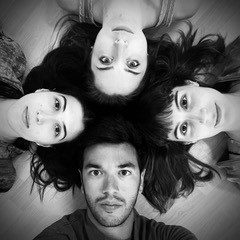 I am Ludovica Pinna, I work mainly as a contemporary dancer. When I applied for DIS-TANZ SOLO presenting my project "Rebirth solo Research" I put a lot of care and passion in describing it, recognizing the great opportunity it could be for a freelance dancer, especially in a difficult moment like this.
During the lockdown I had the opportunity to reflect and work more on myself, on the need to discover my personal movement; the ideas were many and the desire to be able to develop and share them even more.
So DIS-TANZEN was the perfect opportunity to develop and experiment with them.
My project was born as a personal research to be shared, concerning different aspects of my work as a dancer, researcher and teacher. The work is based on my personal way of working, thinking and moving.
These aspects are: researching characteristic movement and composition, learning new techniques to enrich my work as a teacher and researching the teaching of improvisation.
From the beginning until now I have dedicated my work to an important aspect of 'Rebirth solo Research', namely the development of a contemporary dance solo. The theme I have chosen is 'rebirth'.
I used social media as a means of communicating with people who were interested in the work (dancers and non-dancers); asking questions and asking those who wanted to send me what brought them back to the meaning of rebirth. I received many stories, phrases, movements, memories and images that inspired me and helped me to proceed with my research. I let myself be influenced by the material that came to me and step by step I showed the results and shared them.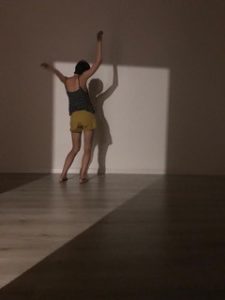 From the beginning I wanted to share ideas and thoughts because I wanted to experience a new way of creating and being inspired, therefore also accepting input from people I really knew.
During the creation of my solo there were moments when I shared some passages, dynamics and movements that didn't convince me by asking the people who were following the work on social networks for their opinions; the answers helped me a lot and it was very interesting to listen to the different opinions.
The first month was completely dedicated to the theoretical, physical and spiritual research of the theme; I did not impose any scheme or idea previously thought except for the theme of Rebirth, which I wanted to keep 'morbidly'. I chose to go with the flow, to go along with the events and changes that occurred naturally to me and to the research, and I was pleasantly surprised by what I managed to achieve.
What's more, working in this way I enjoyed every moment of the process to the full, without having to think about following a pattern.
During this period, I let myself be overwhelmed by the sensations that the theme transmitted to me, working mainly with improvisation.
Thanks to the many external inputs I found new qualities of movement and new dynamics, whereas normally I would have had the instinct to fall into routine or 'comfortable' movements for my way of dancing.
During the second month I found things more real and true to the main theme.
Working with this method for the first time, I was positively surprised by the results and the authenticity of the movements I could find.
The support I got from people I didn't know (from Germany to Italy) but also from colleagues supported me along the way was a real collaboration.
After almost two months of work I began to feel the need to see how this method could be used by working also with other artists and therefore with the possibility of developing the solo into a wider choreographic work.
Not only that, but in addition to experimenting with the research method I was curious to see how other artists would approach the theme of Rebirth; this immediately brought me back to my homeland of Sardinia (Italy).
So I did some research to find out what 'Rebirth' means for Sardinia and the Sardinian people.
I organised the ideas of dancers and non-dancers, comparing and finding connections also between the two places (Germany and Sardinia).
*(Iglesias, my home town in Sardinia, is twinned with Oberhausen).
Later I worked with Luca Scalice, a Sardinian musician who works between Germany and Sardinia and with whom I often collaborate.
We started thinking about composing the music for the choreography while composing the dance for "Rebirth solo Research", inspiring each other.
We found it to be a very interesting way of creating.
We then got in touch with two other dancers, Elisa Cau and Alessia Obinu, and continued the research with them, obtaining, after another month of work, a continuation of my solo.
Now I find myself with a 35-minute choreography that goes through different experiences of rebirth; after also exploring it together with these artists I had a broader view of the theme.
In the performance we meet not only the phases before, after and during rebirth but also different types of rebirths: rebirth in nature exploring the quality of movement, rebirth for a person, rebirth in music and other elements.
---